Horse Drawn Hearse
We can provide a replica19th Century hearse drawn by Black Friesian horses. Ruby Carriages, run by Ben Taylor, has a replica of master carriage maker John Marsden's 1810 hearse carriage. The team of horses can consist of two or four Black Friesians, driven by Ruby Carriages' very experienced coachmen.
The detail and presentation is of the highest quality and is regarded as the premier turnout in the area.
Floral Tributes
We also offer a full range of funeral flowers that are available through any of our branches. Our Floral Tributes are arranged by Roses Florists.
From wreaths, posies and coffin sprays to more specialist tributes such as words and animal shapes.
We also understand that floral tributes can be a very personal choice and our staff are available to help you with your decision. John Grenfell & Son can also offer bespoke floral tributes in order for you to choose your own style, flowers and colours. Simply contact us at any of our branches where our experienced team will be happy to help you.
We can also arrange for the flowers to be taken to a place of your choice, including your home or placed on a family grave. If you would like us to do this, please let us know.
Following the funeral you may decide that some floral tributes could be used to benefit others, such as a hospital, nursing home or other organisations. Subject to them wishing to receive them, we will be happy to arrange this for you.
Our Floral Tributes are arranged by Roses Florists:
8 Ravensworth Terrace,
Bedlington,
NE22 7JW,
Tel No. 01670826656
Monumental Memorials
Memorials for full interments or cremated remains including inscriptions are carried out for John Grenfell & Son by the local company Bart Endean.
Bart Endean is a small family run business. As they have been for over 100 years. Employing traditional masonry skills and modern techniques balanced with the sensitive and sympathetic understanding of the pain and loss and the need to remember and commemorate.
www.bartendean.co.uk/memorials
Repatriation
John Grenfell & Son work alongside repatriation Funeral Directors such as Rowland Brothers International and can offer repatriation services to and from the UK.
Catering
If refreshments are required after the funeral John Grenfell & Son can arrange a function to suit. It may be the venue chosen is a public house and the management have their own caterers, but if no catering is available we can supply a funeral tea together with crockery, urn & waitress if required.
You will need to decide:
Venue
Number of guests to cater for
Type of food required
Caterer.


Wedding Car hire Available
A service offered away from funerals on a more pleasant occasion is using our two Mercedes E Class limos for wedding car hire. These cars are available most Saturdays and an estimate can be given once we know the particulars of Wedding Party journey.
The Fleet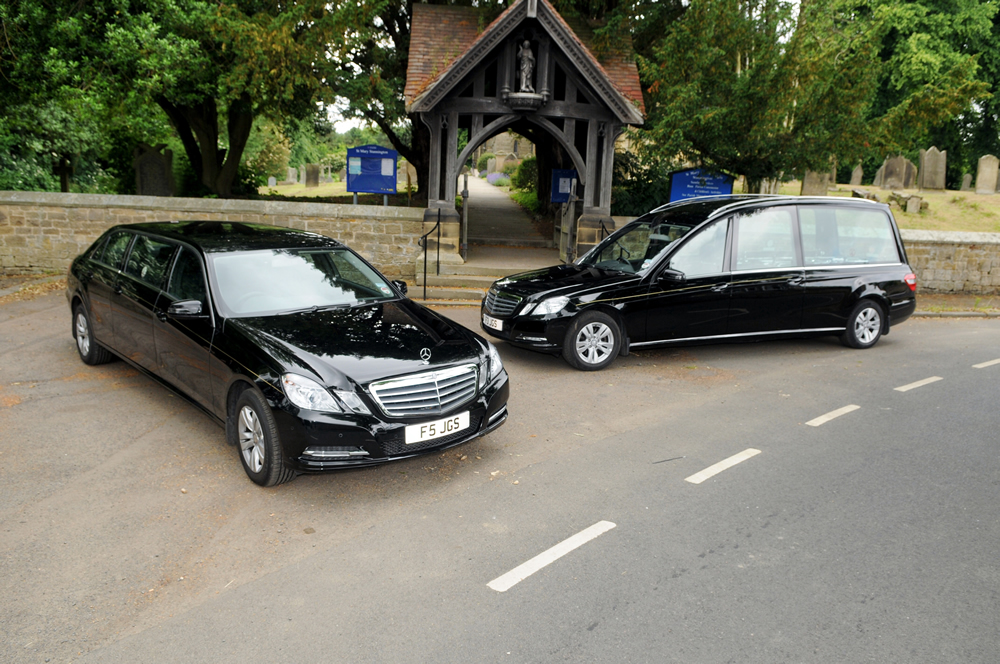 John Grenfell & Son's funeral car fleet consists of a Hearse and two Limousines, but we can increase this cortege if a family requires more transport. The Funeral Vehicles are Mercedes Benz based on the E Class model.

The capacity of the limousine is 7 mourners, 6 in the back and 1 in the front next to the driver.

There are many transport options and we can discuss these options with you when arranging a funeral. Our funeral directors can make all transport arrangements on your behalf, whatever your wishes.